Workplace Equality with
Equal Pay Analysis
Identify and close pay inequalities
The market's most modern tool for Equal Salary Analysis. Our
customers develop a more equal work environment. For real!
Workplace Equality with Equal Pay Analysis
Identify and close pay inequalities
The market's most modern tool for Equal Salary Analysis. Our customers develop a more equal work environment. For real!
Equal Pay Analysis is for detecting, addressing and preventing unjustified salary differences between women and men based on gender. Today, a focus on Equality is a must for every employer. With our system you'll get the true picture of your salary structure, meet legal requirements and gain insights of your equality. All in one.
Smooth, Smart and Secure
You can easily and smoothly carry out the annual equal pay analysis. The system guides you through the process and ensures that you meet all legal requirements.
Three main benefits:
With our Equal Pay Index you'll get a reality check and insights into whether you have an equal pay structure or not
The system guides you through the analysis process and you will be done in a snap!
No manual handling. All steps, from job evaluation, analysis to action plan take place directly in the system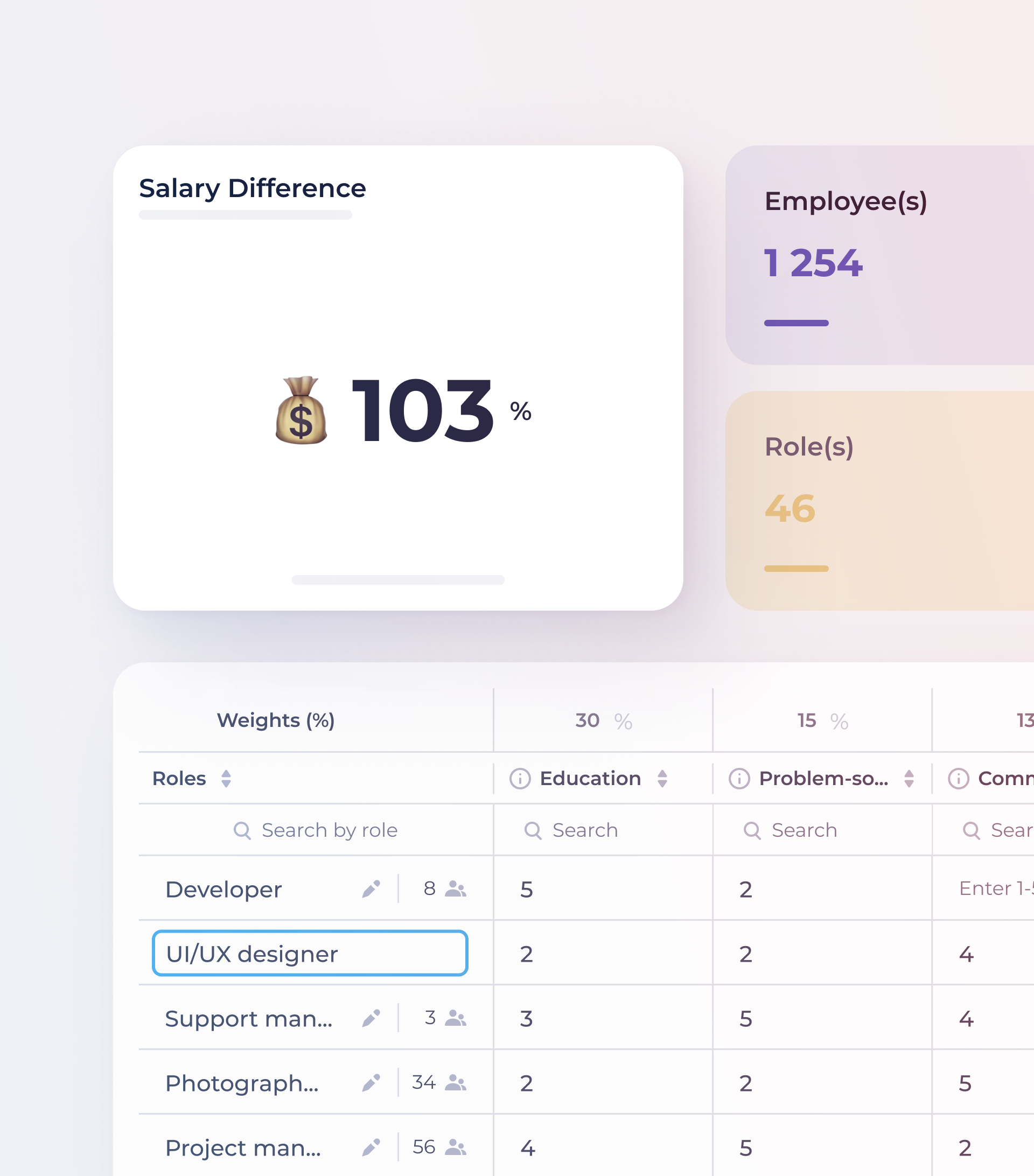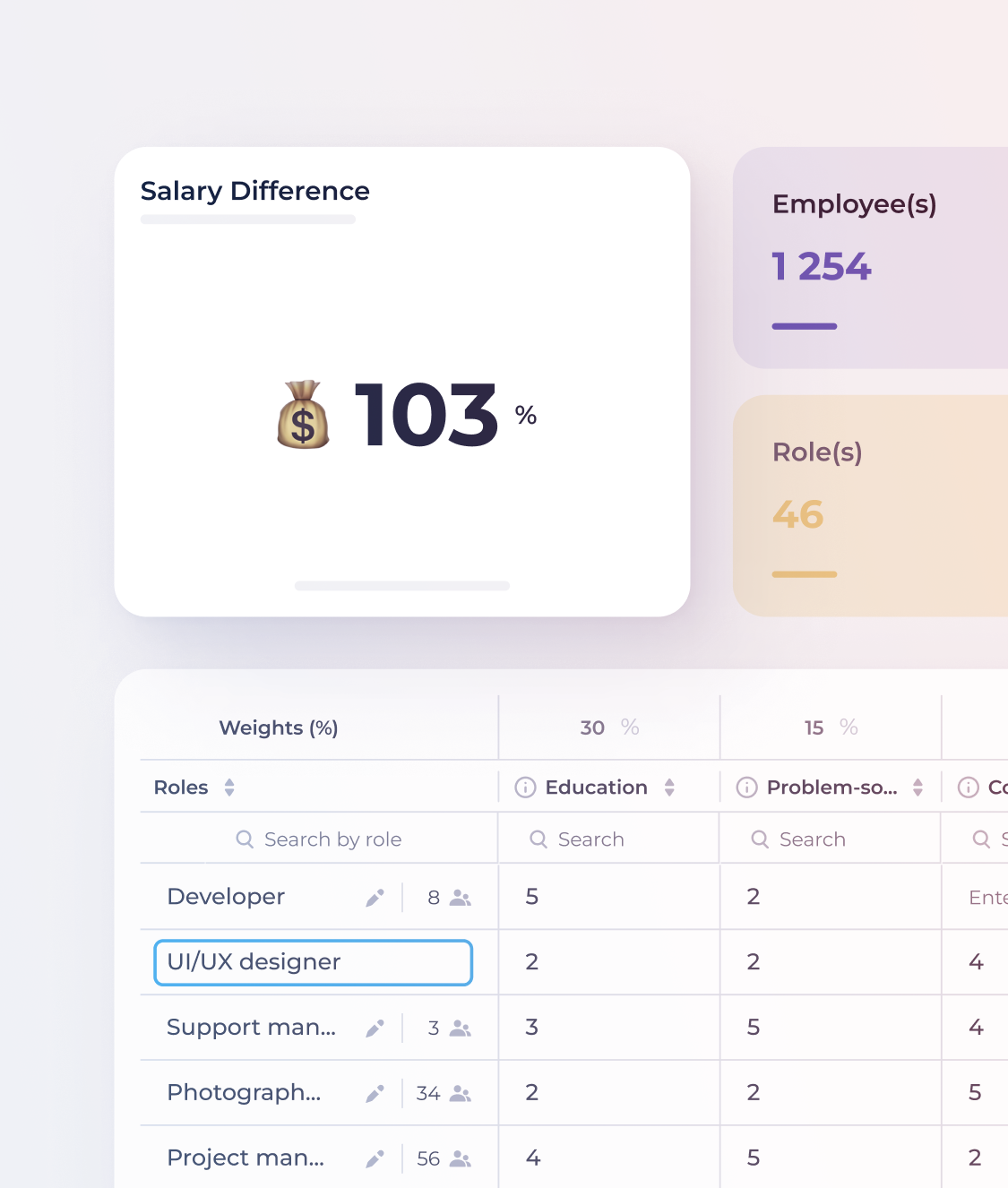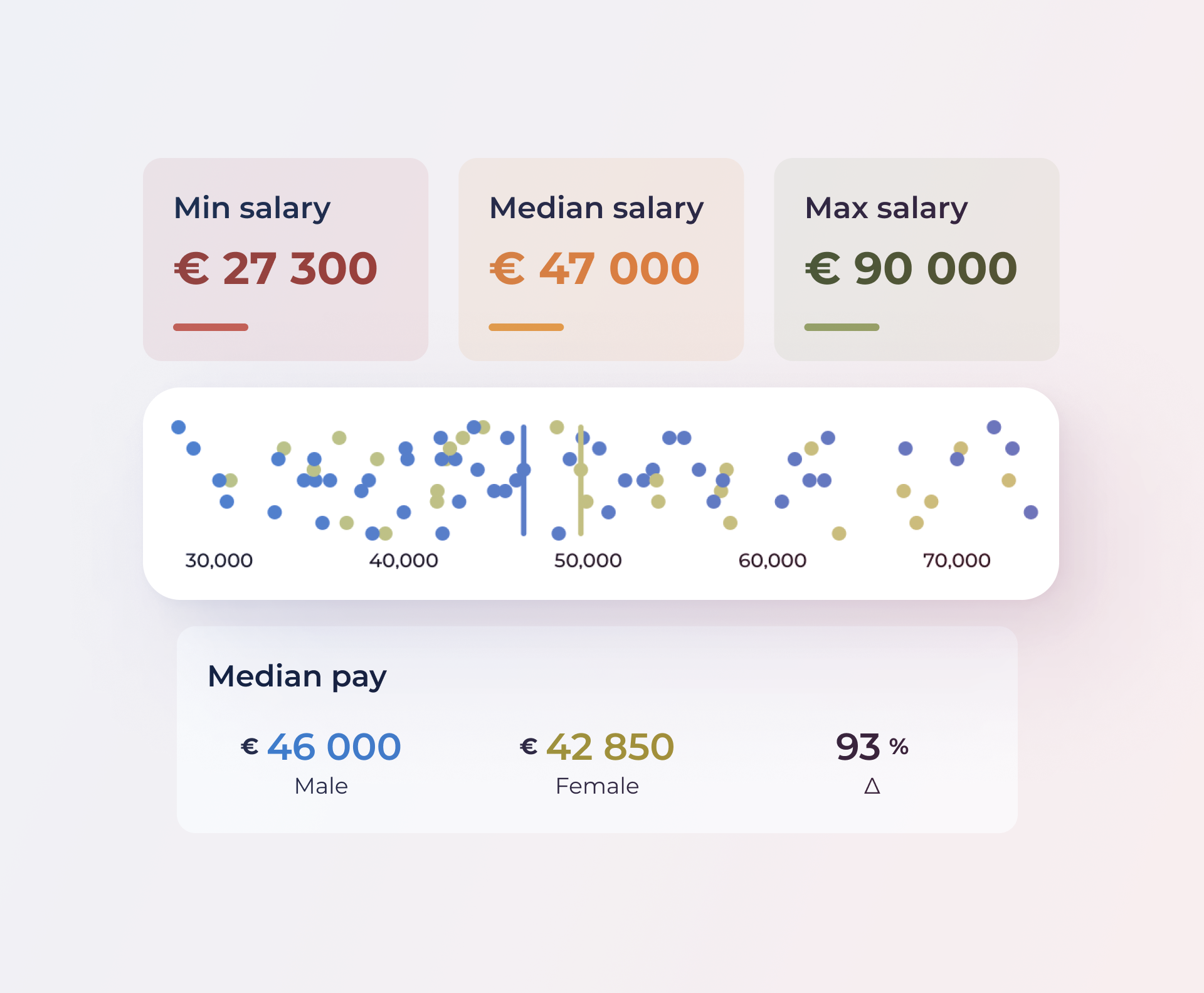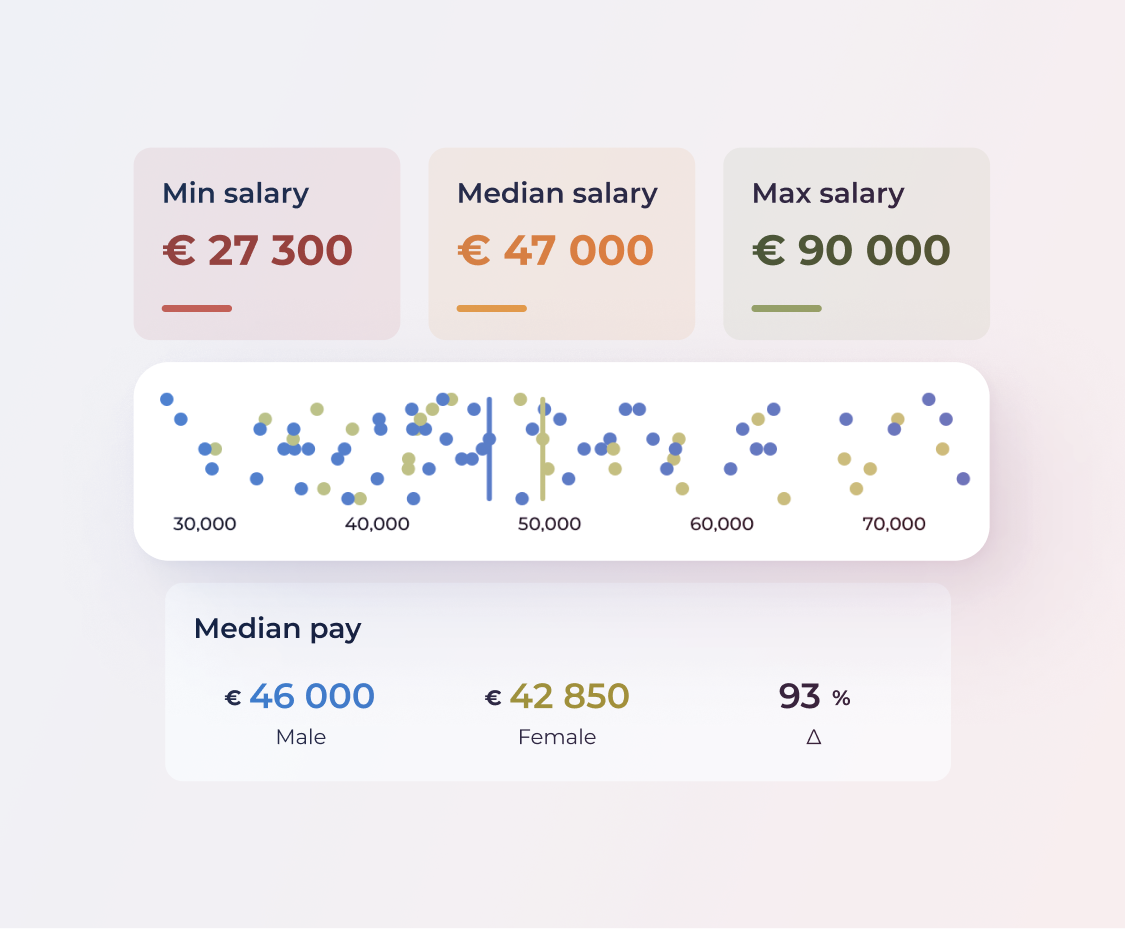 Easy implementation. Fast results
You will be surprised by how quickly this can be done! We often get feedback that our Equal Pay Analysis is nearly 2x faster compared to other systems, not to mention doing it manually with your own hands.
Flexible job architecture and job evaluation
We are experts in Job Architecture and Job Evaluation. In the system, you can both use predefined factors or completely customize them. You can also upload another methodology.
With our system support, you'll get your job architecture in place and can continuously update it during the year. Many of our customers connect to Salary Benchmark Data and work continuously to develop their salary structure, career paths and salary ranges.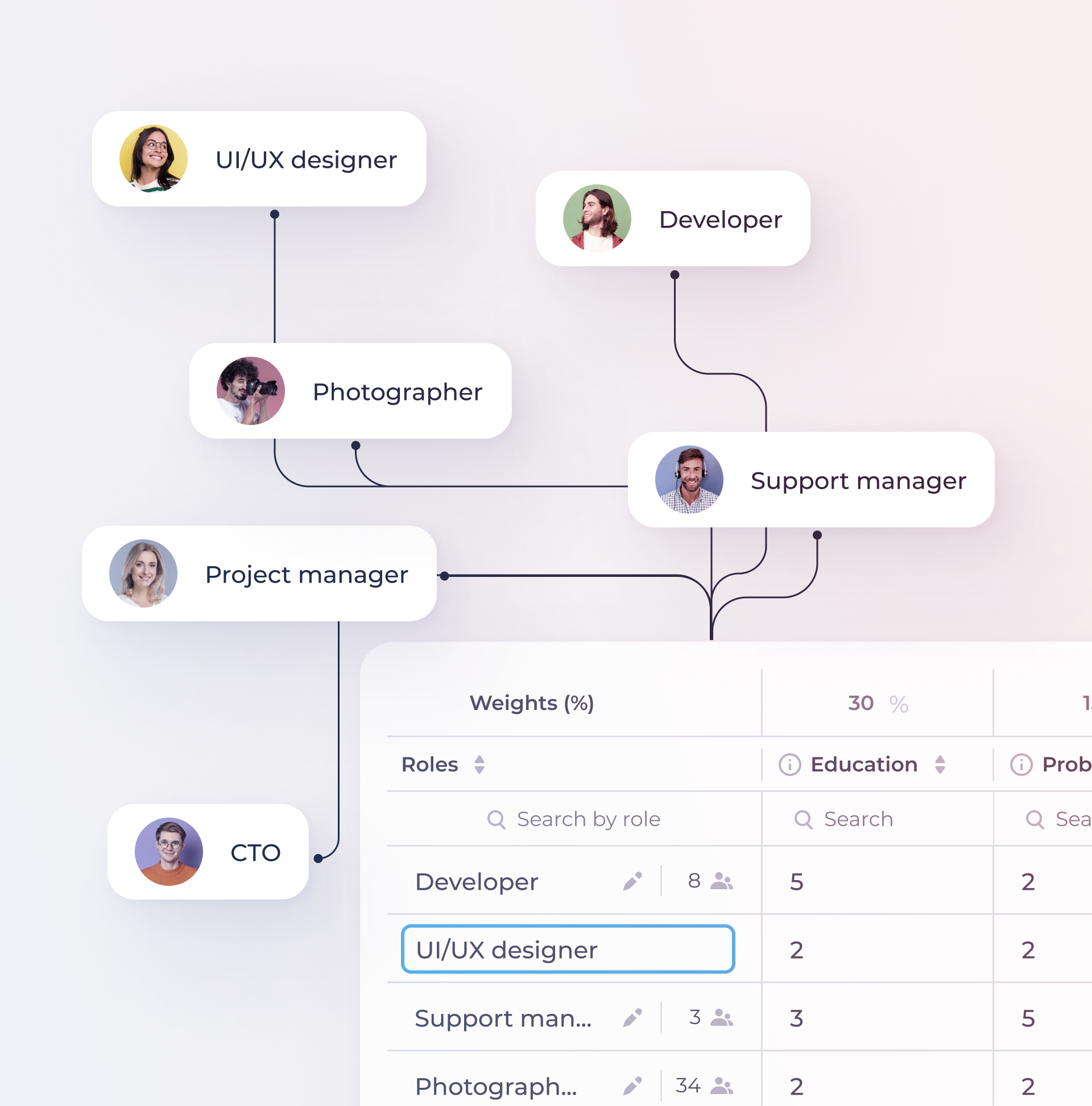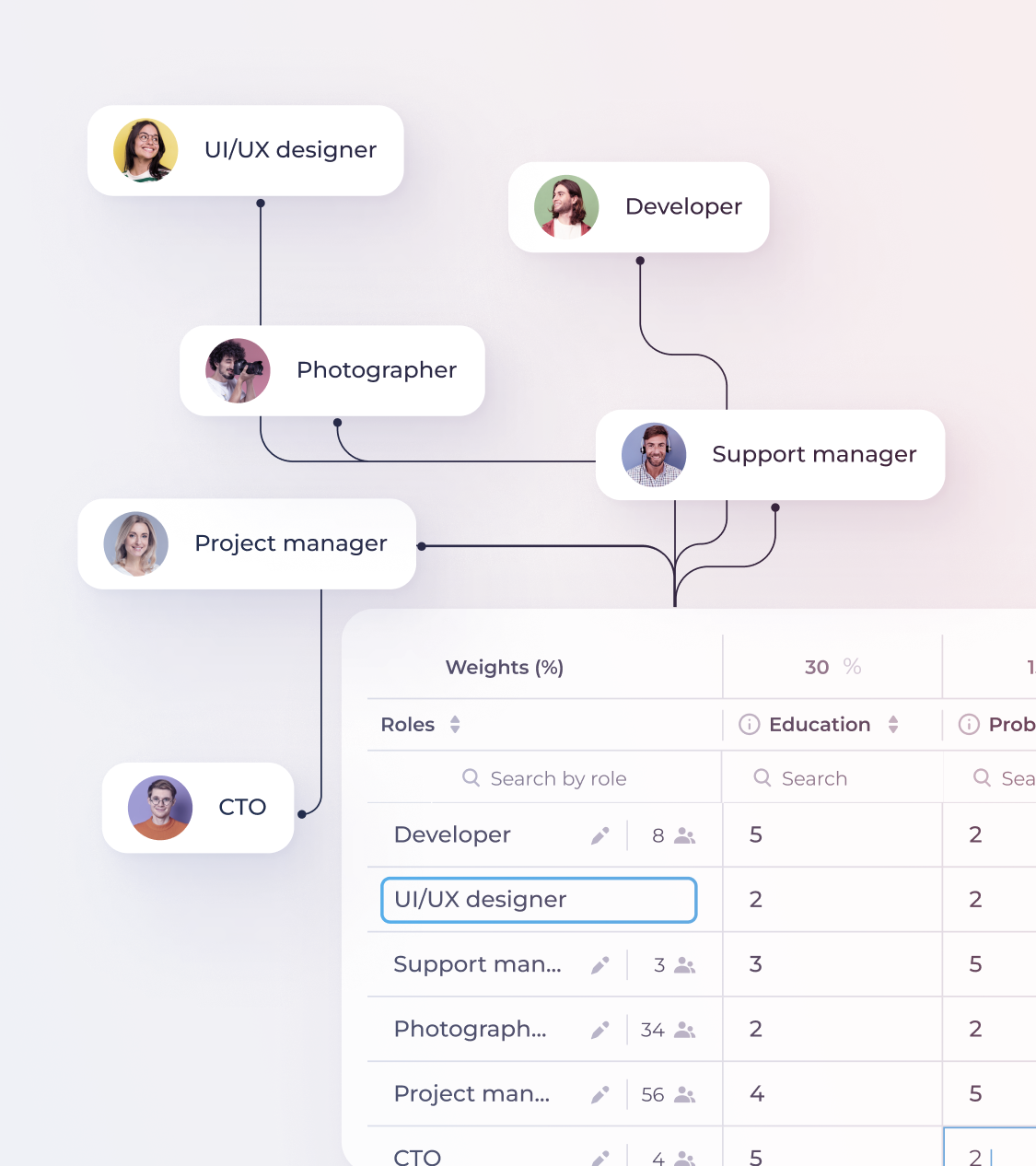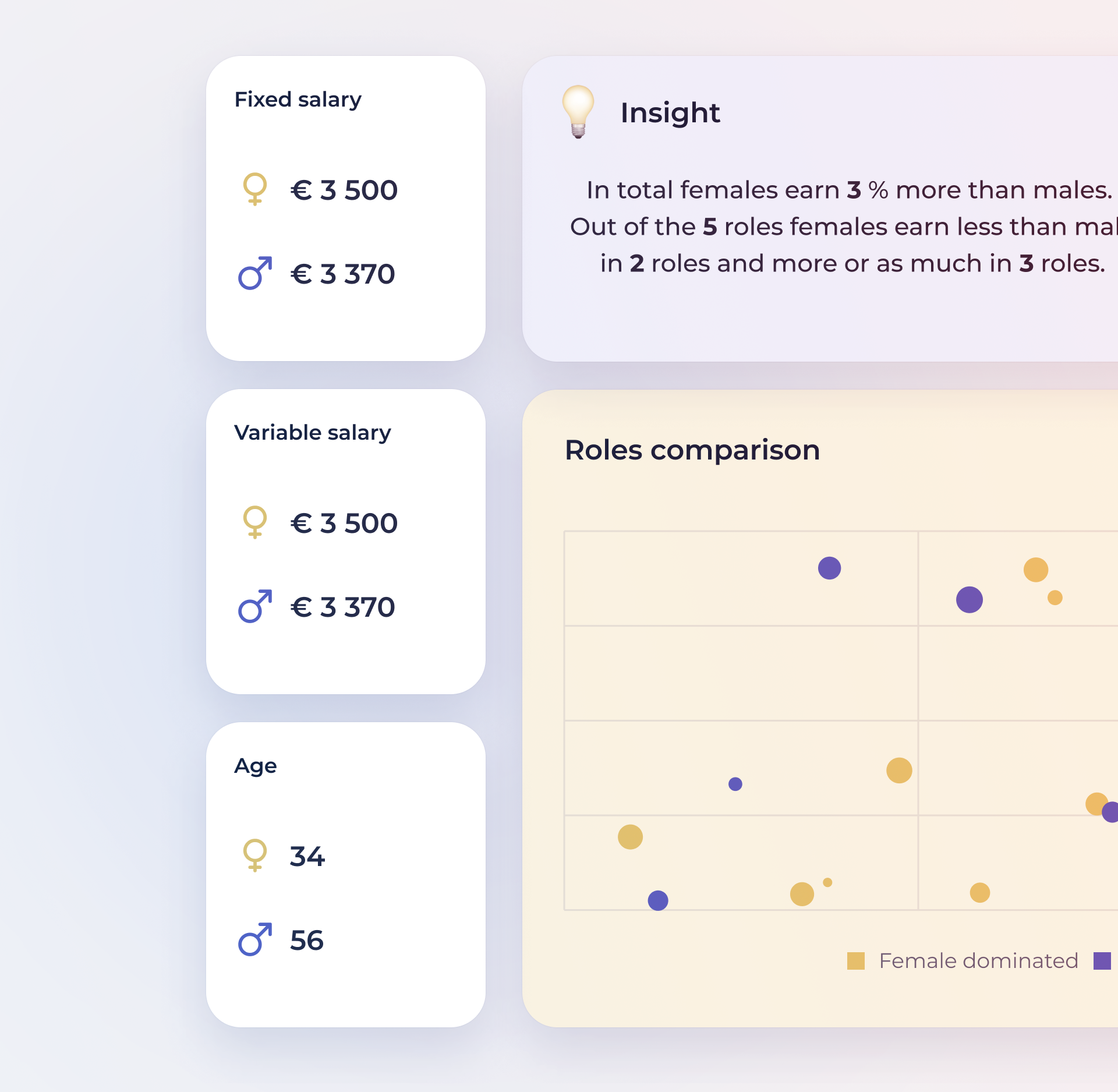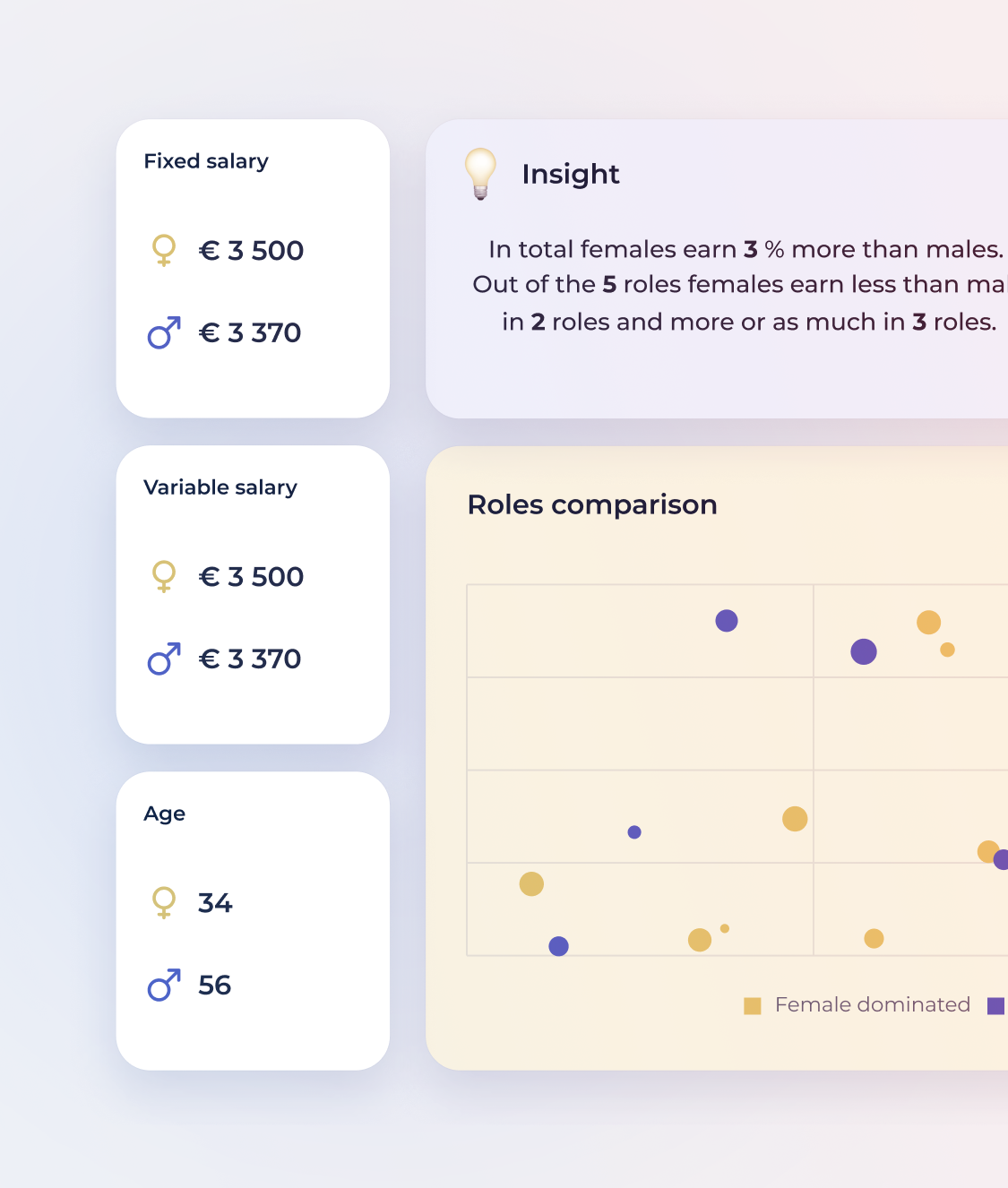 It should be smooth and easy!
We have developed a super smooth user environment, with first-class support
Get full control of your salary structure, title structure and salary development
Save time and skip manual work
Integrate with other solutions
Equal Pay Analysis can be integrated with Heartpace Salary Review module as well as Salary Benchmark Data or Salary Analysis. With Heartpace, you'll get a complete solution that covers all your needs within Pay management. We operate internationally and our system is translated into many different languages. Of course, it handles different currencies too. Everything neatly packaged in the Heartpace suit.
Clear and Neatly
Packaged Results
We focus a lot on visualizations that help you to quickly get an idea of your data and thus be able to make accurate analysis. Of course, the system will help you with suggestions on which areas may require action.
Everything is documented during the process and the result is a fully compiled report that meets the legal requirements. Stylished, packaged and easy to understand.
In a larger business group, Equal Pay Analysis can be used for mapping and analysis of several legal entities within the group. The process becomes easier and you'll get a very good group-wide picture of analysis.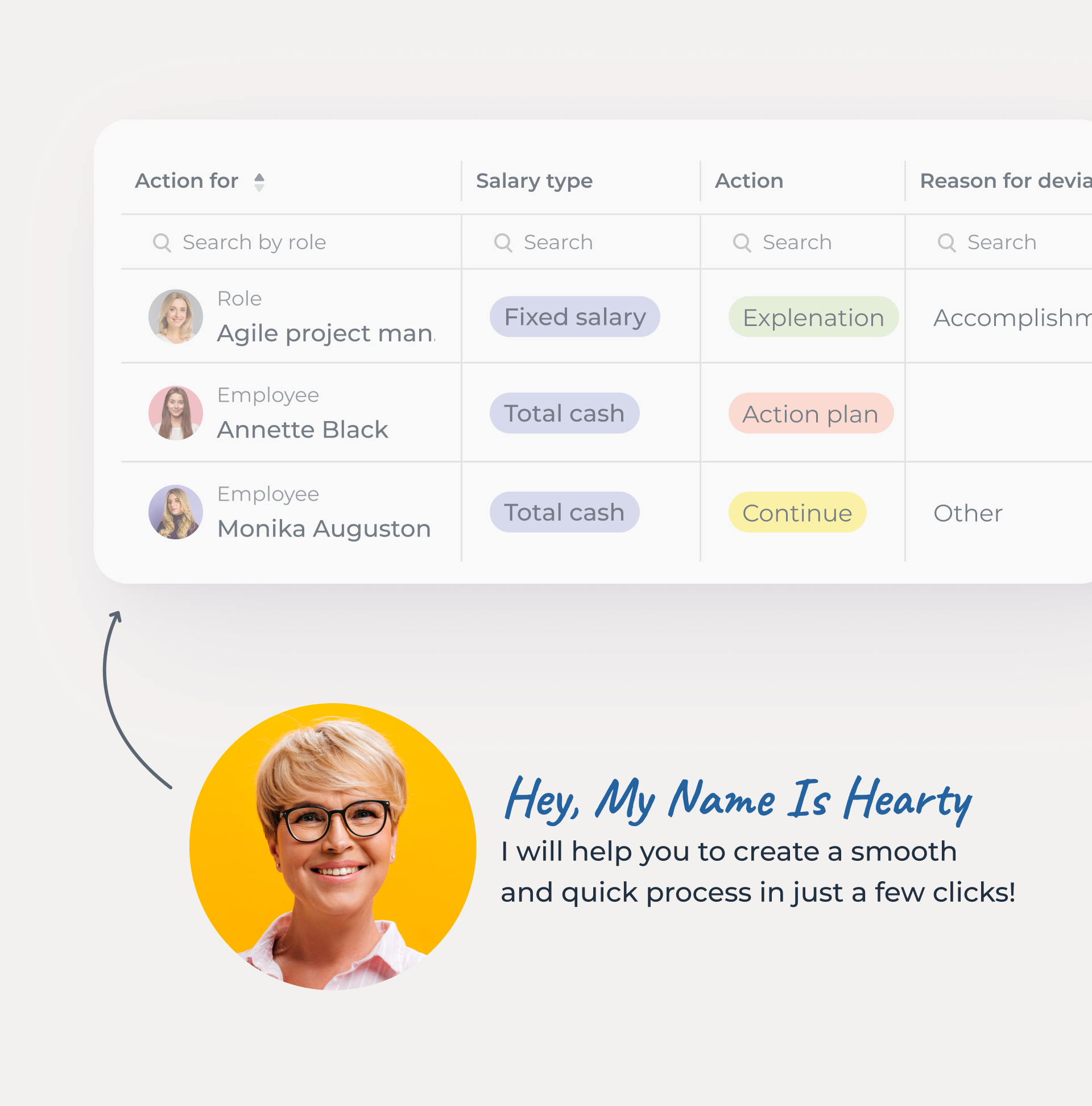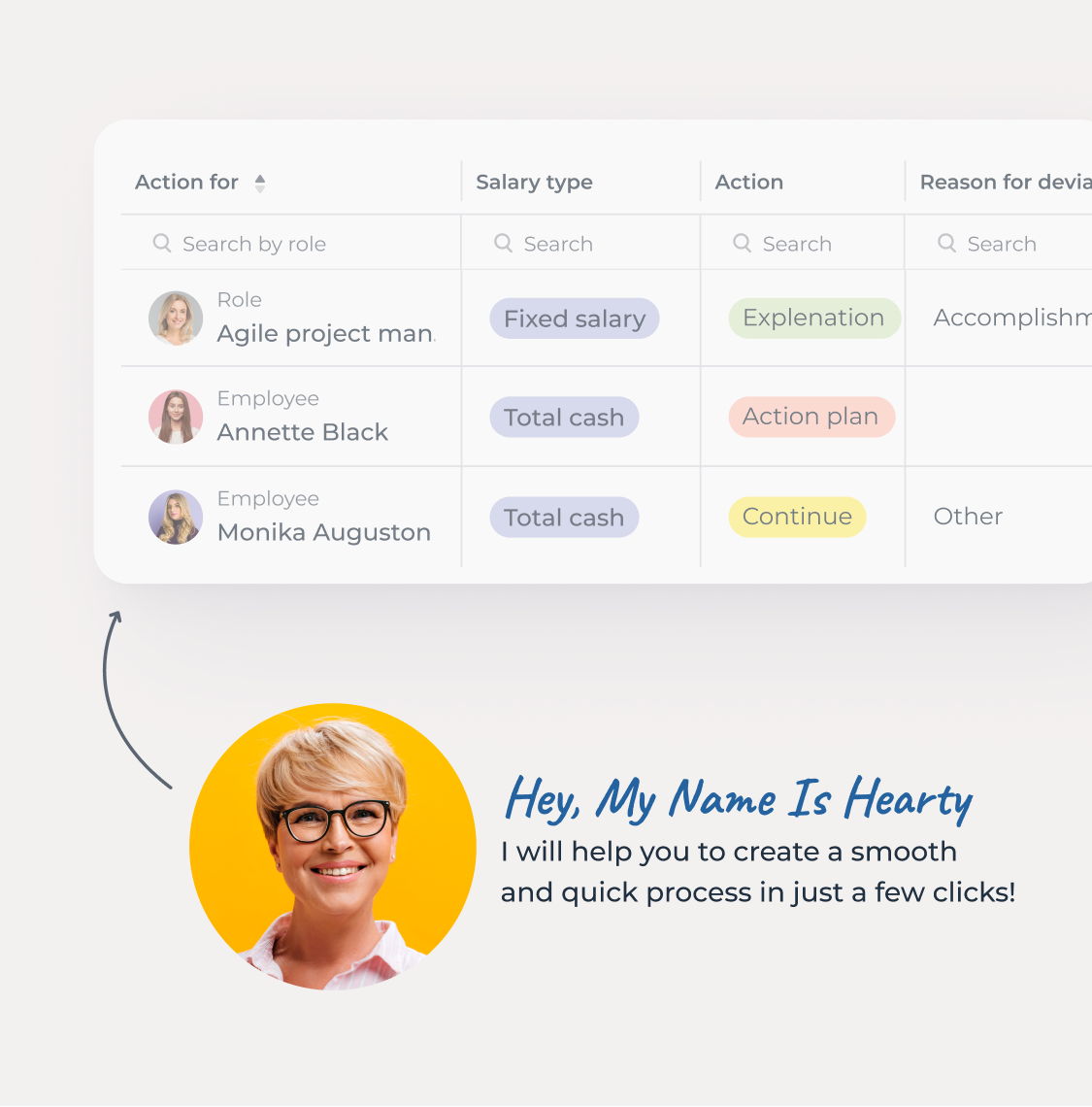 Completely cloud-based — No download or installation needed

Smart analysis work – Only perform analyzes where there is an identified inequality based on facts

Easy to integrate with other modules in Heartpace, such as Salary Review
Read more about how to create a data-driven, fact-based and engaging culture with our digital HR tools within the Heartpace HR suit:
Do you want to know
more about Heartpace?
Get in touch to book a demo with our HR experts
Do you want to know more about Heartpace?
Get in touch to book a demo with our HR experts